Earn
$9.20
$18.40
in
Rewards
.
3/8 Inch Drive Torx/TR Torx Bit & External Star Socket Set, 36-Piece (T10-T60, TR10-TR60, E4-E20)
Details
Torx®
Star-shaped Torx® bit has 6-lobes for an exact, high-torque fit that resists camming out.
Sizes included in this set:
T10, T15, T20, T25, T27, T30, T40, T45, T47, T50, T55, T60
TR Torx®
Same shape as the Torx® bit, plus a hollow center to accept the post on Tamper-Resistant fasteners.
Sizes included in this set:
TR10, TR15, TR20, TR25, TR27, TR30, TR40, TR45, TR47, TR50, TR55, TR60
External Star
Inverse of the Torx® bit, the External Star (E-Star) socket is a female 6-lobe shape.
Sizes included in this set:
E4, E5, E6, E7, E8, E10, E11, E12, E14, E16, E18, E20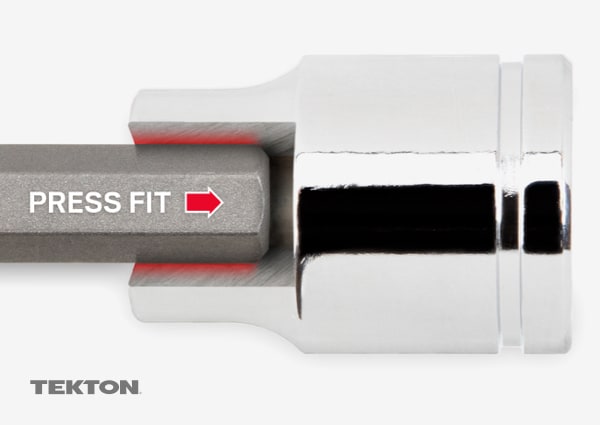 Straight,
Permanent Connection
Bits are pressed directly into the socket for a permanent connection
The carefully controlled process ensures bits are exceptionally straight
A tightly mated fit means bits will not loosen over time or under stress
Large, Stamped
Markings
Markings are permanently impressed into the material by a roll-stamp die
Sizes are as large as possible while still being readable along the socket's curved surface
Secure
Drive Tool Engagement
Four detent grooves provide a secure connection with the retaining ball of a drive tool
Beveled inner rims help guide the socket onto other tools
Storage
Case
High-density polyethylene material withstands exposure to common lubricants, fuels, and solvents
Strong latches, and hinges with metal pins
Molded size markings for each tool inside the case
Specs
3/8 Inch Drive Torx/TR Torx Bit & External Star Socket Set, 36-Piece (T10-T60, TR10-TR60, E4-E20)
| | |
| --- | --- |
| Country of Origin | Taiwan |
| Item Weight | 3.81 lb. |