1/2 Inch Drive 6-Point Socket and Ratchet Set, 51-Piece (10-32 mm)
Set Includes:
MM

Standard length
10, 11, 12, 13, 14, 15, 16, 17, 18, 19, 20, 21, 22, 23, 24, 25, 26, 27, 28, 29, 30, 31, 32 mm (23 sizes)

MM

Deep length
10, 11, 12, 13, 14, 15, 16, 17, 18, 19, 20, 21, 22, 23, 24, 25, 26, 27, 28, 29, 30, 31, 32 mm (23 sizes)
Storage case
Details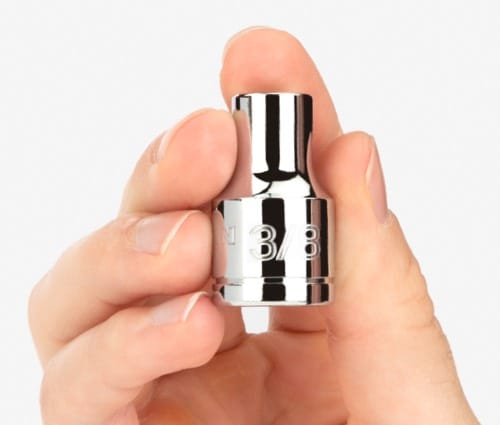 Large, Stamped
Markings
Permanently impressed into the material by a roll-stamp die
As large as possible while still being readable along the socket's curved surface
Clearly visible size numbers with extra-deep outline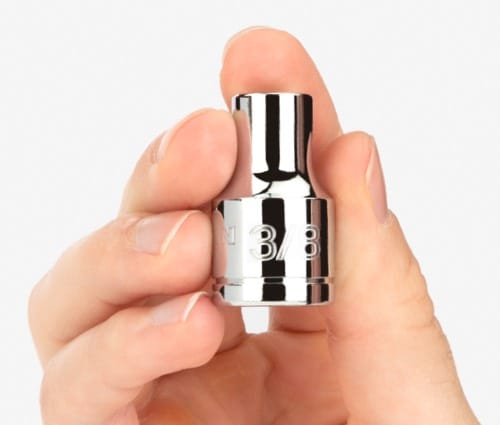 Fully Stepped
Shoulders
Narrowed diameter stretches to the base of the socket on small, deep-length sizes. This provides greater reach into tight, recessed areas.
Exterior + Interior
Finishes
Chrome-plated exterior is highly corrosion resistant and wipes clean to a mirror finish
Interior is protected against rust with clear coat, rather than commonly-used metallic paint
6-Point

Socket Opening

Provides an exact fit and maximum contact for hex fasteners
Prevents Fastener
Round-Off
Radiused corners prevent fastener round-off by applying force to a fastener's flat sides, rather than its corners.
Secure
Drive Tool Engagement
Four detent grooves provide a secure connection with the retaining ball of a drive tool
Beveled inner rims help guide the socket onto other tools
High
Torque Strength
Meets minimum value of 1.2 times the ANSI standard for Proof Torque. Verified by a single-cycle test that applies torque until specified value is reached without failure or permanent deformation.
METRIC SERIES
ANSI
TEKTON
Source: ASME B107.5M - 2002
INCH SERIES
ANSI
TEKTON
Source: ASME B107.1 - 2002
90-Tooth
Ratchet
4-degree swing arc
Ultra-compact head is reduced in all dimensions
Quick-release drive locks sockets onto tang and releases with the press of a button
View Ratchet
Breaker

Bar
230-degree pivoting head without preset positions
18 inch long handle for increased leverage
View Breaker Bar
Included
Accessories
3 and 10 Inch Extensions
Reach past obstructions and into tight spaces. Knurled band provides grip for starting or turning loosened fasteners.
Universal Joint
Pin-style joints rotate smoothly and continuously to access fasteners at up to 55-degree angles.
Specs
1/2 Inch Drive 6-Point Socket and Ratchet Set, 51-Piece (10-32 mm)
| | |
| --- | --- |
| Country of Origin | Taiwan |
| Item Weight | 27.1 lb. |