Details
Tip Design
Sharp Point

for Precise Work
Each tip comes to a sharp 30-degree tapered point for precise scraping, piercing, and scribing.
Classic Styles

for Broad Use
Three pick styles and two hook styles cover a broad range of mechanical applications.
Blade Design
Strong

Blade Material
We take AISI 8650 steel, a Ni-Cr-Mo alloy, and heat-treat it to 52–56 HRC to make a blade that is strong without being brittle.
Resists

Twisting Out
Two "wings" on the base of the blade help it resist being twisted or pulled out of the handle.
Handle Design
Versatile

Handle
The classic square handle is long and slender with contoured sides for overall versatility and maneuverability.
Hard, Durable

Material
The handle is made of a hard glass-reinforced nylon that's easy to clean and resistant to fuels, oils, and chemicals.
Ideal

for Precision Applications
Remove or install O-rings, gaskets, and seals
De-pin connectors and access other tight recesses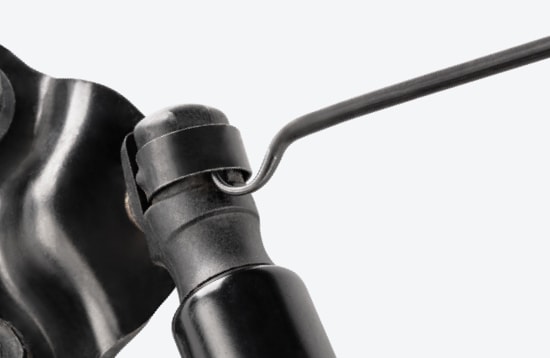 Pry retainer clips and other small components
Isolate and pull wires, cables, and hoses
Specs
45-Degree Bent Pick (1/8 Inch x 3 Inch)
| | |
| --- | --- |
| Country of Origin | United States |
| Item Weight | 0.08 lb. |