1/2 Inch Drive 6-Point Socket and Ratchet Set, 58-Piece (3/8-1 in., 10-24 mm)
Details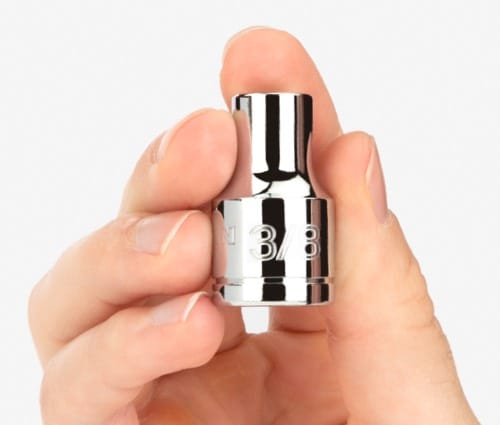 Large, Stamped
Markings
Permanently impressed into the material by a roll-stamp die
As large as possible while still being readable along the socket's curved surface
Clearly visible size numbers with extra-deep outline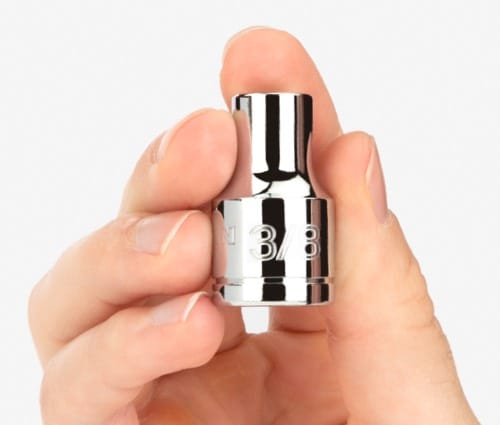 Fully Stepped
Shoulders
Narrowed diameter stretches to the base of the socket on small, deep-length sizes. This provides greater reach into tight, recessed areas.
Exterior + Interior
Finishes
Chrome-plated exterior is highly corrosion resistant and wipes clean to a mirror finish
Interior is protected against rust with clear coat, rather than commonly-used metallic paint
6-Point

Socket Opening

Provides an exact fit and maximum contact for hex fasteners
Prevents Fastener
Round-Off
Radiused corners prevent fastener round-off by applying force to a fastener's flat sides, rather than its corners.
Secure
Drive Tool Engagement
Four detent grooves provide a secure connection with the retaining ball of a drive tool
Beveled inner rims help guide the socket onto other tools
High
Torque Strength
Meets minimum value of 1.2 times the ANSI standard for Proof Torque. Verified by a single-cycle test that applies torque until specified value is reached without failure or permanent deformation.
METRIC SERIES
ANSI
TEKTON
Source: ASME B107.5M - 2002
INCH SERIES
ANSI
TEKTON
Source: ASME B107.1 - 2002
90-Tooth
Ratchet
4-degree swing arc
Ultra-compact head is reduced in all dimensions
Quick-release drive locks sockets onto tang and releases with the press of a button
View Ratchet
Breaker

Bar
230-degree pivoting head without preset positions
18 inch long handle for increased leverage
View Breaker Bar
Included
Accessories
3 and 10 Inch Extensions
Reach past obstructions and into tight spaces. Knurled band provides grip for starting or turning loosened fasteners.
Universal Joint
Pin-style joints rotate smoothly and continuously to access fasteners at up to 55-degree angles.
Specs
1/2 Inch Drive 6-Point Socket and Ratchet Set, 58-Piece (3/8-1 in., 10-24 mm)
| | |
| --- | --- |
| Country of Origin | Taiwan |
| Item Weight | 22.43 lb. |