Details
Classic

Handle Design

Refined from a classic square profile, the handle has smooth, comfortable contours along the sides that create natural positions for your fingers.
Extremely Durable

Handle

Made of glass-reinforced nylon, the handle has a very hard and durable surface.
RESISTANT TO:
Extreme Temps
High
Impacts
Chips & Cracks
Scratches & Dents
Fuels & Grease
Cleaners & Solvents
Easy-to-Read
Markings
Tip type and size are printed on the end of the driver for easy identification.
Phillips

Tip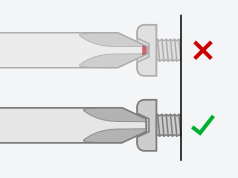 Truncated at the tip to fully engage fasteners without bottoming out
Slotted

Tip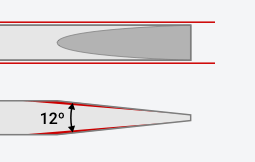 Machined tip is the same width as the shaft to fit into narrow recesses
Thick tip design withstands high-torque driving and light-duty prying
Materials
and

Construction
AISI 8650
Steel Blade
Strong Ni-Cr-Mo alloy hardened to HRC 52–56
Nylon 6
Inner Core
Resists blade turnout and improves outer handle smoothness
Strong, durable glass-reinforced nylon is the same material as the outer handle
The #0 Phillips and 1/8 inch Slotted drivers have a smaller handle size that does not use an inner core.
Nylon 6
Outer Handle
Glass-reinforced nylon with an impact modifier increases strength and durability
Shore D 90 durometer
Insert Molded for
Exceptional Strength
We use a molding process that forms the handle around the blade, rather than forcing the blade into a premade handle. The result is a straighter blade that can't twist out.
Specs
Hard Handle Screwdriver Set, 4-Piece (#1-#2, 3/16-1/4 in.)
| | |
| --- | --- |
| Country of Origin | United States |
| Item Weight | 0.77 lb. |